5 Reasons why LiveSwitch Cloud just got TMC's Teleworking Solutions Excellence Award 2020
by Chelsea Job, on June 01, 2020
Teleworking is a hot topic these days and an increasingly strategic consideration for all progressively-minded companies. For organizations in search of a customizable video conferencing solution, we've always believed that LiveSwitch Cloud is one of the best options out there for developing remote work applications. But today we aren't just saying that to ourselves anymore. We are proud to announce that we have won the TMCnet Teleworking Solutions Excellence Award for 2020.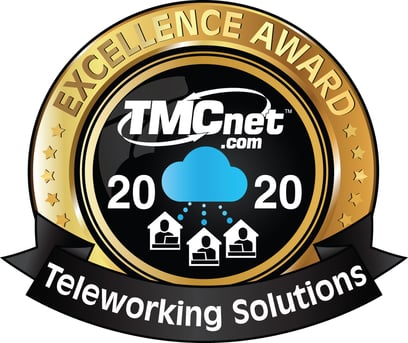 Here are some of the reasons why we were chosen:
1. High Quality Video
There is nothing more disruptive to a video meeting than poor quality video. LiveSwitch was designed to provide the highest video quality possible in all network conditions, including rural areas with challenging internet connectivity. We work hard behind the scenes to continually add features like simulcast, bandwidth adaptation and a powerful hybrid connection topology so that you never have to worry about your device's connection, battery life or how much network bandwidth you have available. Read more about how we maintain the best quality connections possible.
2. Security
Security poses a significant concern in teleworking scenarios. For that reason, we take extra precautions over and above the industry standard to ensure that your private communications are kept safe. Not only that but all our product's media pipelines are flexibly designed to allow you to add additional end-to-end encryption that satisfies your industry's requirements.
3. Collaboration
Collaboration is key to any remote work environment and technology is continually evolving to allow you to be even more efficient in your work. LiveSwitch not only allows you to implement basic remote collaboration tools like live video streaming, screen sharing, file transfer and text chat, but it also allows your developers to tap into the power of AI-driven 3rd party services as well as augmented and virtual reality for an even more powerful teleworking solution.
4. Complex Workflows
Every company is unique and has unique requirements for their teleworking solutions. LiveSwitch allows you to build complex workflows that perfectly match your business. Whether that be transferring data from a variety of medical instruments straight to your conference, or using augmented reality to bring expert eyes into the field, LiveSwitch is flexible enough to handle it all.
5. Flexibility
Teleworking needs change over time and the best remote working solutions evolve with your business. Whether that be launching your application on a new platform, adding additional security features or even integrating artificial intelligence, your application must be flexible enough to adapt with you. LiveSwitch was designed to be the most flexible teleworking product on the market today and is packed with flexible features that you won't see anywhere else.
To learn more about LiveSwitch Cloud or to sign up for a free trial visit: https://www.liveswitch.io/