Introducing the Frozen Mountain Partner Program
by Greg Batenburg, on March 13, 2018
It is with great pleasure that we announce the introduction of the Frozen Mountain Partner Program--an initiative aimed at developing mutually beneficial working relationships with software development companies and WebRTC advocates.
As a software development company, you bring something unique to the table. You know that each customer has their own unique needs when it comes to using video chat, screen sharing, broadcasting, VoIP interaction, text chat and other aspects of RTC for a custom application. And while we are able to provide products and SDKs that provide the "plumbing" necessary to drive RTC projects, we need people like you to help incorporate them into your customers' solutions. That's where our Partner Program comes in.
What's in it for you?
As a member of our program you will take advantage of these benefits:
20% commission for each referral that results in the sale of any Frozen Mountain product;
A 20% share of 1st year recurring monthly revenue from any LiveSwitch customer you refer to us, plus 10% in the 2nd year;
Exclusive monthly Partner Program webinars with Frozen Mountain's CTO;
Step-by-step on-boarding process that will give you the information you need to sell our product in the real world;
Easy access to Frozen Mountain marketing materials;
Premium-level support if you are working with the referral to build their RTC application with a Frozen Mountain Product;
And much more!
How does it work?
We have made the process easy. See below for a breakdown of how you can make the Frozen Mountain Partner Program work for you.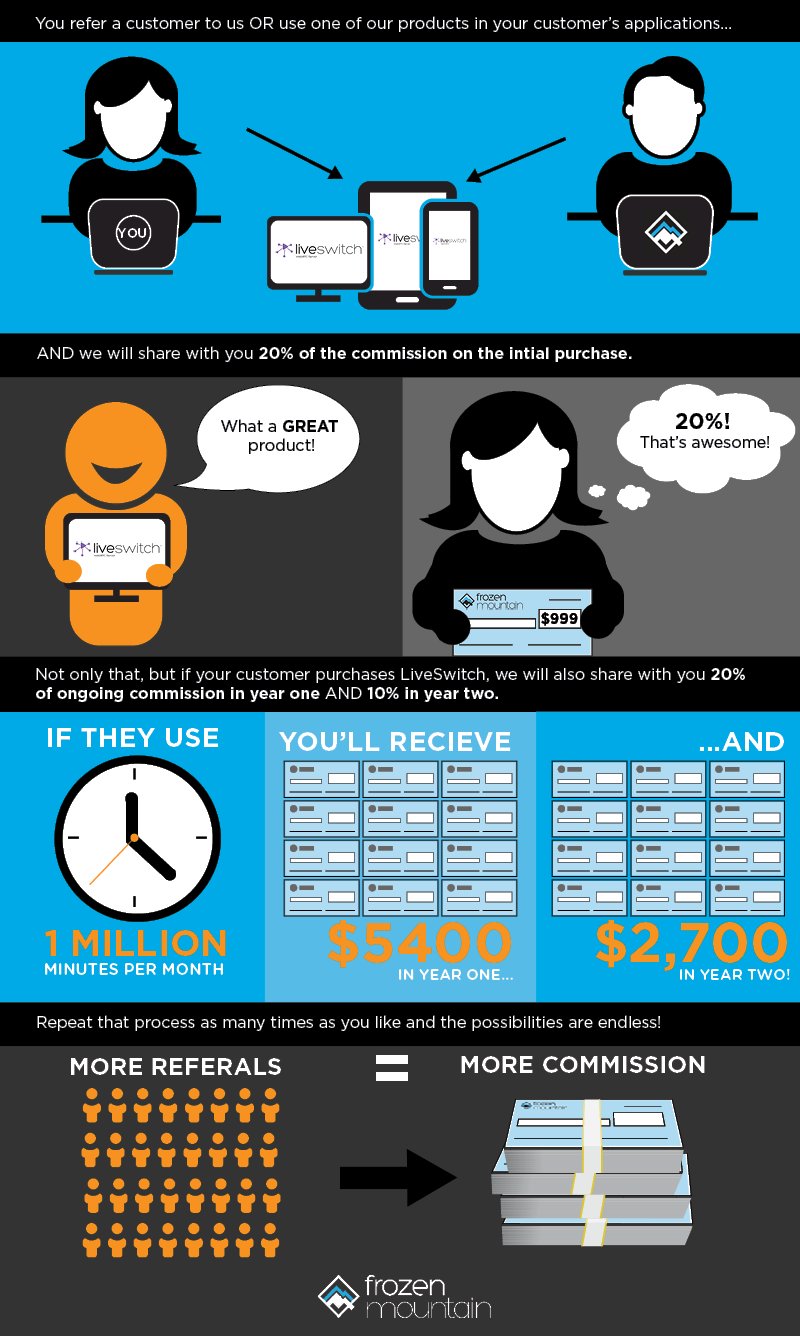 How do I register my referral?
Apply to join the Frozen Mountain Partner Program.
Register your referrals with us in one of the following ways:

Go to Frozen Mountain Partner Program page and register your referral's potential interest in purchasing a Frozen Mountain product;
Add links from your website, blog pages, or social media to anywhere at frozenmountain.com. If your registered domain is the original source for a contact that subsequently purchases a Frozen Mountain product, you will be credited as the referrer and will receive a commission on the sale;
email partners@frozenmountain.com and introduce us to your referral.

We'll send you a sales commission payment and a share of the recurring monthly revenue resulting from your referral's purchases.
Ready to become a partner? Apply here to to become a Frozen Mountain Partner today! We look forward to having you as part of the Frozen Mountain partner family!